Case Study
Column Uses Data to Defend Public Notice
By Sarah Alpert, Product · October 15, 2020
Column helps press associations defend public notice requirements, leveraging data to prove the value and viability of public notice in the 21st century.
In early 2020, the Kansas state legislature considered eliminating the publication of storage notices in local newspapers. KS HB 2454 would have hurt Kansas newspapers financially, while also threatening the future of public notice at large.
Kansas statute 58-817 requires that before selling property from abandoned units, storage operators must publish an advertisement in "a newspaper of general circulation in the jurisdiction where the sale is to be held." Like other public notices, these ads alert the public before private or governmental parties make decisions (or property sales) that might have personal repercussions.
Tired of dealing with these notices, owners of storage units in Kansas lobbied for a change. Their argument was simple: Each time they wanted to make a sale, storage owners had to pay around $200 to notify the public. To avoid funding these expensive notices, they wanted to extend the law to allow advertisement to occur in "any commercially reasonable manner."
Alarmed by the proposed legislation, the Kansas Press Association sought to defend storage notices, which provide a valuable source of revenue for local newspapers. But first, KPA needed to prove that publishing storage notices wasn't nearly as expensive as the unit owners claimed.
Luckily, KPA had enlisted Column as their aligned technology partner. While onboarding Kansas newspapers to our collaborative public notice platform, Column had built a database of publication practices for newspapers across the state.
When KPA told Column about the push to eliminate storage notices, the Column team got to work. We gathered around 20 samples from a comprehensive database of storage notices, then simulated placing these notices with every single legal newspaper in Kansas. Using what we knew about rates, templates and publication dates, Column calculated the price of every placement. After aggregating expected prices, Column calculated measures of center and created a scatter plot comparing notice prices to newspaper circulation sizes.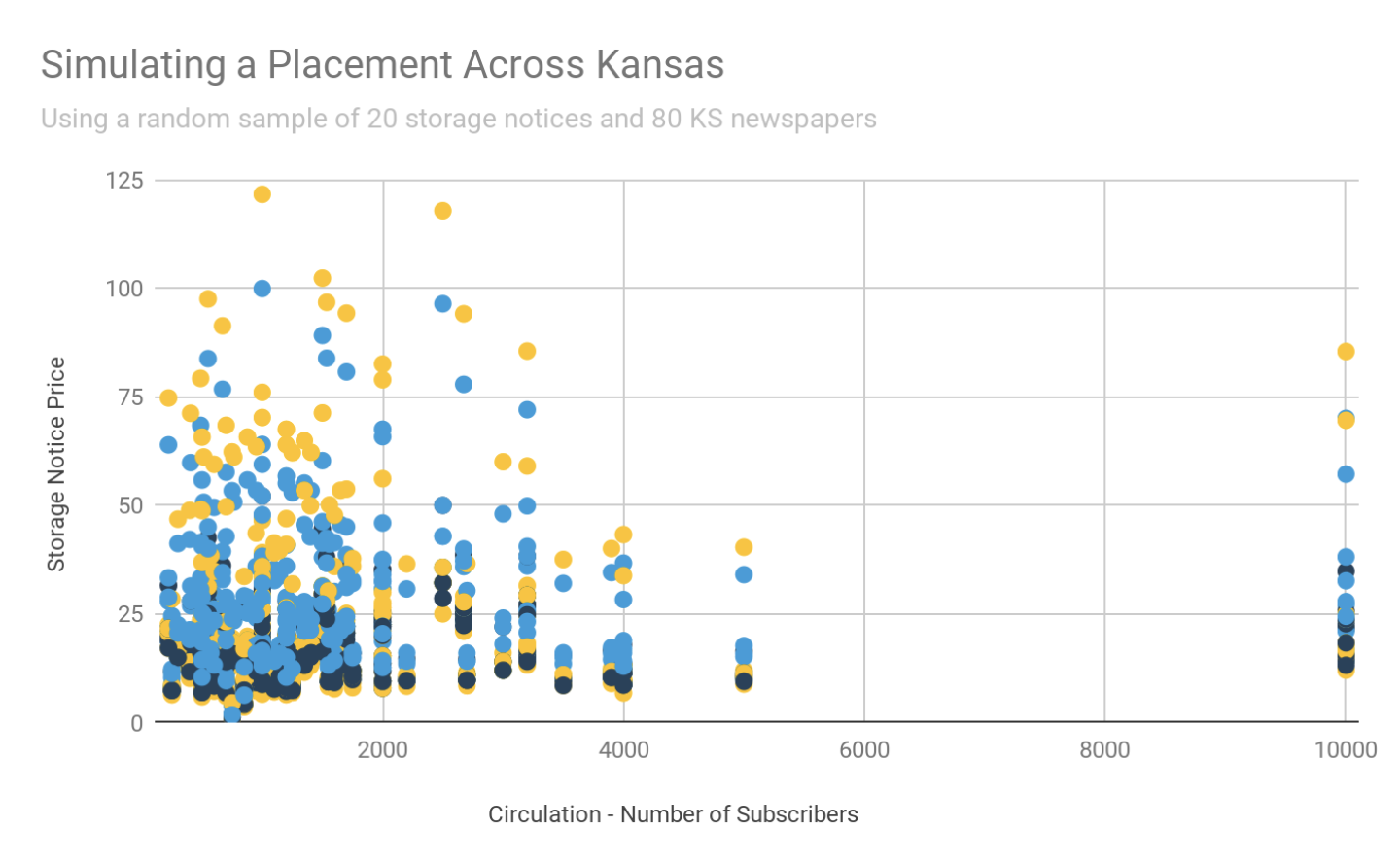 The results were staggering. Rather than $200, the average price of placing a storage notice in Kansas turned out to be only $19.75, with a standard deviation of $8.39. Plus, Column found very little correlation between circulation size and notice price.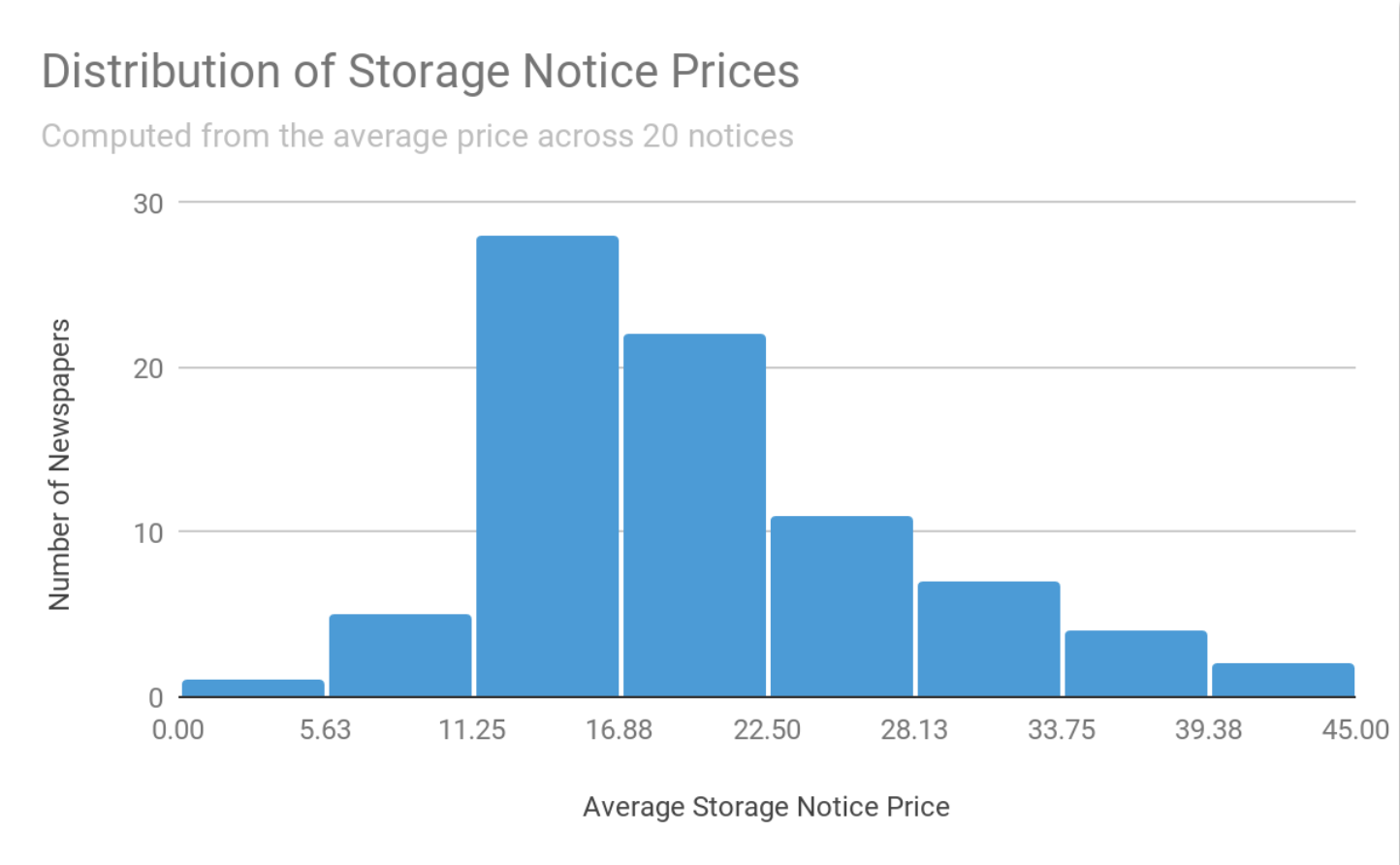 In other words, regardless of how many readers a notice would reach, storage notices almost always cost less than $50. Most cost only $10 to $20.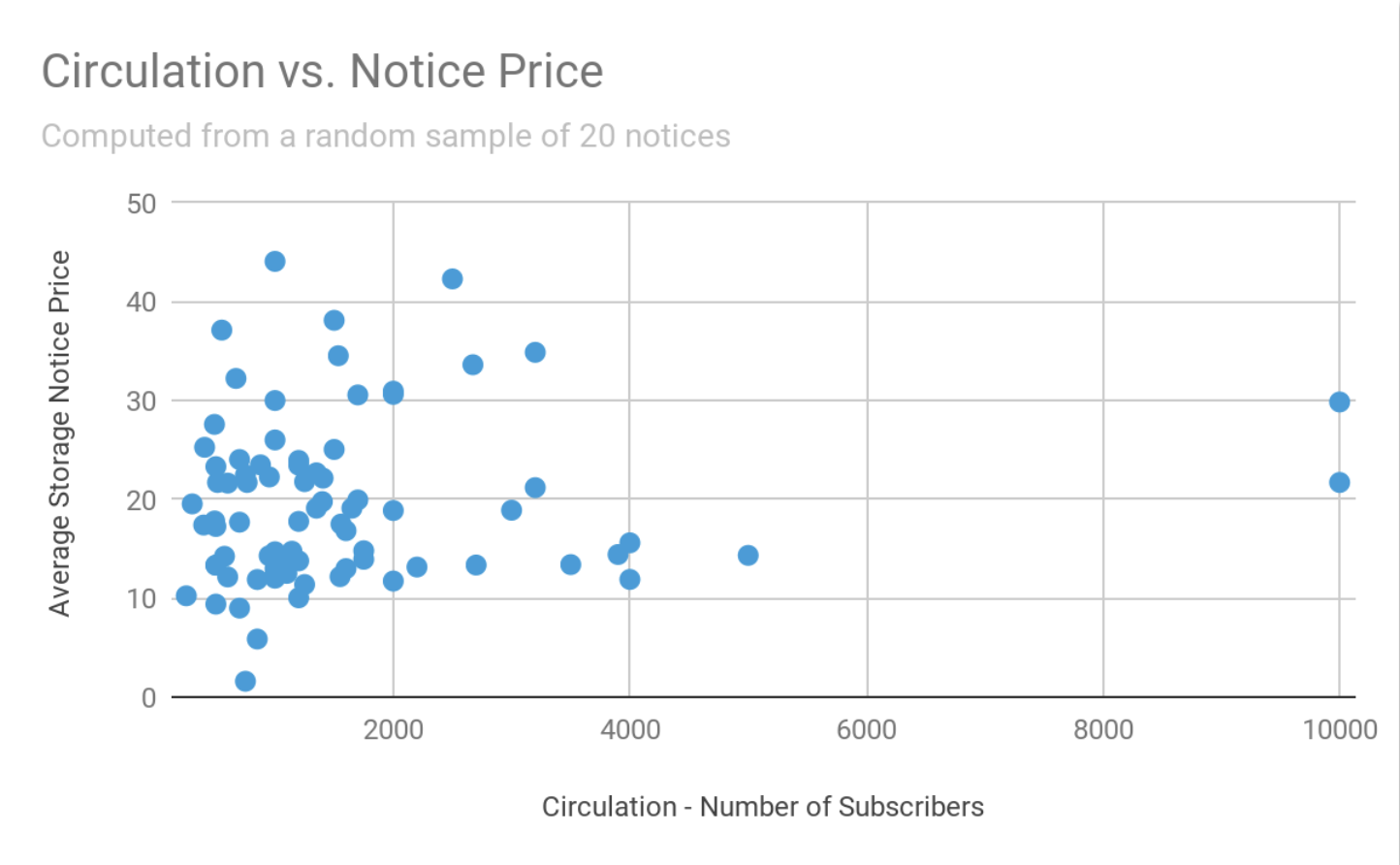 Column's analytics were able to help the Kansas Press Association defuse the storage unit owners' argument that these notices are unduly expensive. At KPA's invitation, Column's CEO Jake Seaton showed up along with Emily Bradbury and Doug Anstaett to a hearing in the Kansas legislature to present the defense.
Storage notices, like many forms of public notice, help ensure that transactions that occur without the owner's consent follow a codified process of notifying the public and entering the transaction into systems of record for that community. County courthouses and law firms keep extensive records, and affidavits that show compliance with notification requirements are an important pillar of our system of self-governance.
In addition to securing this vital form of public notice, Column helped KPA set a precedent for how data-driven evidence can support the interests of journalistic institutions and the citizens they serve. As Column introduces public notice tools to publications across the country, we look forward to using both data and technology to keep citizens informed via their local newspapers.